https://www.socaspot.org/wp-content/uploads/2022/08/Gregory-Vickrey-Announcement.pdf
August 19th, 2022
SOCA Hires New Director of Coaching and ECNL Regional League Coordinator ­
Gregory Vickrey joins SOCA as DOC for the ECNL Regional League.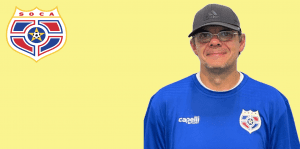 The Soccer Organization of the Charlottesville Area has hired Gregory Vickrey as the club's Director of Coaching in charge of ECNL Regional League travel teams.  Gregory will direct the ECNL RL level of SOCA's Travel Program, managing 14 teams, U11-U19, boys and girls, in the statewide league of Virginia's strongest youth clubs.  In addition to his role as Director of Coaching, Gregory will serve as head coach for the 2007 Boys and Girls SOCA Blue teams in Fall 2022.
Vickrey served as the Director of Soccer Operations for Fredericksburg Soccer Club for the past 5 years.  In addition to directing the program, his duties included coaching teams at all age groups both male and female.  He was instrumental in founding the NPL West Travel League this spring.  Vickrey is a former high school teacher, teaching upper level math and science courses for 7 years and has experience coaching both in the club and scholastic settings having served as the head coach of the varsity boys and girls teams at Fredericksburg Academy.  He holds a USSF C License, USC Advanced National Diploma and a USC Goalkeeper 2 Diploma.  Vickrey holds further NASM Certifications in Personal Training, Nutrition, Sports Nutrition, Women's Fitness, Corrective Exercise and Performance Enhancement.
SOCA's Blue teams compete in the ECNL Regional League as a part of the Virginia Premier Soccer League.  The ECNL RL and VPSL are members of US Club Soccer.  The ECNL RL is a statewide league of the top clubs in Virginia.  SOCA participates in the southern conference with fellow member clubs Richmond Strikers, Richmond Kickers, FC Richmond, Virginia United (Roanoke), VBR Star (Roanoke), Virginia Reign (Williamsburg), Beach FC and Virginia Rush (VA Beach).  Northern clubs include Arlington, Loudoun, Prince William, VSA and Mclean.  League champions qualify for national championships in Colorado each summer.
You may welcome Gregory to his new position at his email address:  Gregory.Vickrey@SOCAspot.org.
New SOCA ECNL RL Director of Coaching, Gregory Vickrey said:
"I am excited to work with the professional staff at SOCA and Skyline Elite; we are an ambitious, driven, and detailed group in service to the most dynamic players in the Charlottesville area. As director and coach within a well-established organization with a strong foundation, I have the opportunity to be aspirational in our collective pursuits and forward-thinking in our approach to player and personal development. I look forward to strengthening the culture within our club, embracing the greater SOCA community, and galvanizing our position as a leader in Virginia soccer."
Executive Director of the Virginia Soccer Alliance, Matt Wilson said:
"I'm pleased to welcome Gregory to our staff as Director of Coaching – ECNL RL.  I've been impressed by his commitment to high standards and know he will raise the bar for our players, coaches and teams.  Gregory is passionate about youth development, club development and creating the optimum environment for players to thrive.  Our program will benefit from his leadership."