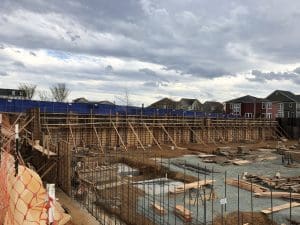 The SOCA Field House at Belvedere is now rising out of the ground, as construction continues with forming and pouring of concrete walls.  With footings and foundations in place, the next phase of vertical construction has begun.  The complex task of assembling reinforcing and forming the walls is underway, with a large concrete pour expected later this week.
The massive steel frame components have been delivered on site and are poised for placement.  Erection of the steel frame is expected to begin in mid-April.
Construction continues on schedule as the project remains on pace to open in autumn 2020.