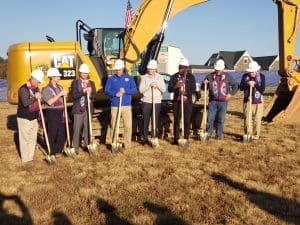 After more than a decade of continual effort, SOCA officials and a supporting team of project participants reveled in the ceremonial ground breaking yesterday for the Belvedere Field House project.  Located adjacent to the Village Green in the heart of the Belvedere community, SOCA's indoor facility promises to bring increased vitality to the unique neighborhood.
Shown in the photo, from left to right, are:  Doug Lowe (owner's representative), Steve Krohn (New Belvedere, Inc.), Robert Wood (United Bank), Matt Wilson (SOCA Executive Director), Don Long (SOCA President), Michael Atunsae (ACAC), Steve von Storch (Stoneking von Storch Architects), Doug Horn (Martin Horn).
Construction is scheduled to take about nine months, with an early autumn opening expected.  The field house will feature a 60 yard x 40 yard indoor artificial turf playing surface, which will be used on a year-round basis to support and supplement SOCA's comprehensive programs.
"Ownership of the indoor facility will make us fairly unique among youth soccer clubs", stated Bill Mueller, SOCA Director of Soccer.  "The Field House will become a center of activity; hosting games, practices, all manner of supplemental training programs, along with coach and referee education."
"We're very excited to get this project started.  Many good folks have worked long and hard to get us to this point.  We're delighted to be in the Belvedere neighborhood, where we look forward to being partners and neighbors."
The project will open with the essential components of the playing field, restrooms, changing rooms and storage.   Donations are gratefully accepted to help complete the build-out of meeting spaces and viewing mezzanine, among other features.  Donate here: https://www.socaspot.org/members/donations.php